Retreats and Workshops
Ignite Inspiration, Creativity, and Vision
Let Art Lead You To Abundance
A Unique Workshop for Women Business Owners
March 16, 2019
10:00AM – 4PM Pacific
Expressive Arts

3201 Thorn St., San Diego
Join me and my colleague Gayle Goldman at an exciting, innovative workshop designed for women business owners to remove mental blocks about money. You'll tap into your intuition through playing with your creativity.
There is absolutely no art experience needed to succeed in this fun and productive workshop.
You'll be guided through easy creative activities using clay, paint, crayons, pastels, markers, watercolors, colored construction paper and through journaling activities.
Come with an open heart and an open mind to try something new.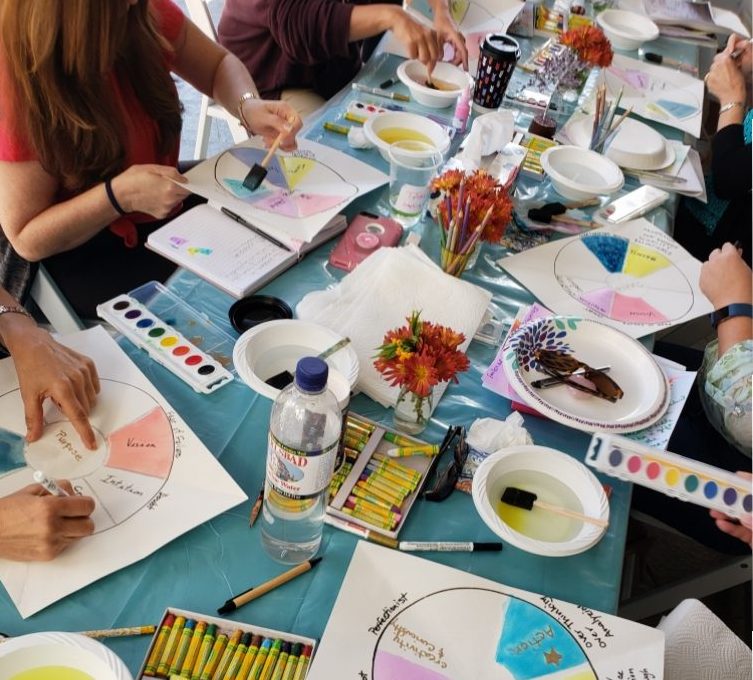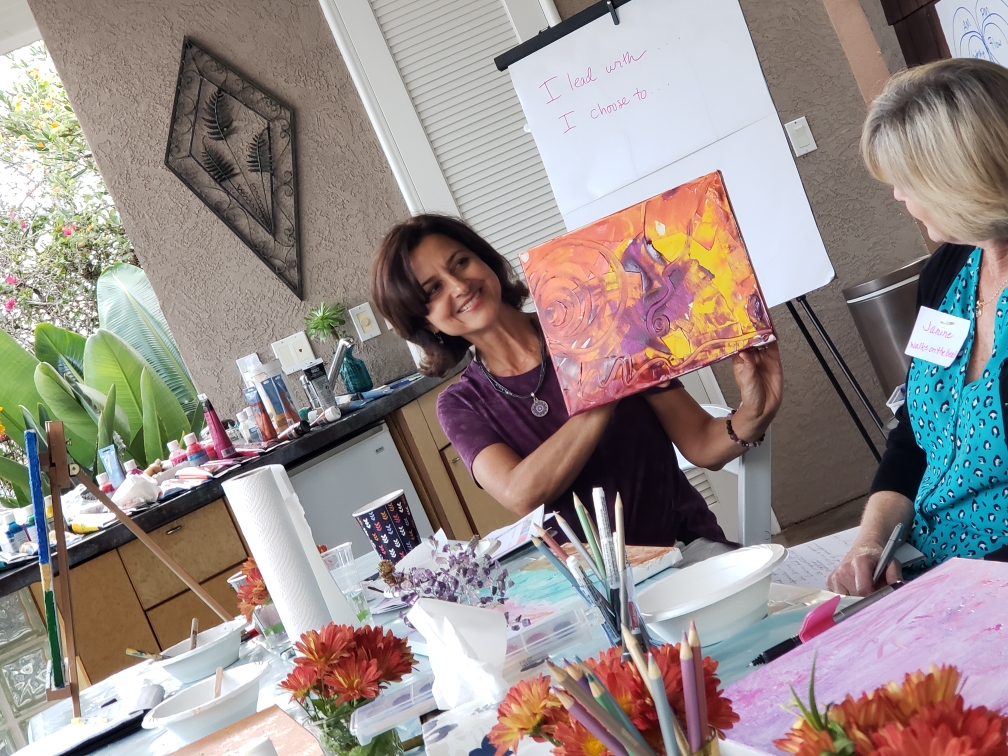 We provide all the supplies and snacks. Just bring your lunch. Space is limited to 15 people per class. Cost is $50.
For more information and to register for March 16th workshop: https://bit.ly/2TosHKI
Note: If you are unable to make this date, we are offering the workshop again on April 20th. Register for April 20th workshop at https://bit.ly/2UcYgEF
I hope you can join us for this unique workshop!
Painting in Your PJs
An Online Mini-Retreat for Grown-Ups
January 1, 2019
10:30AM – noon Pacific
via Zoom video conferencing
YES, you can come in your pajamas. Or not.
It's totally up to you. But I will definitely be wearing mine. After all, it's New Year's Day so why get dressed before noon?
I'll guide you through a fun creative activity, journaling, and visualization to start your year anew!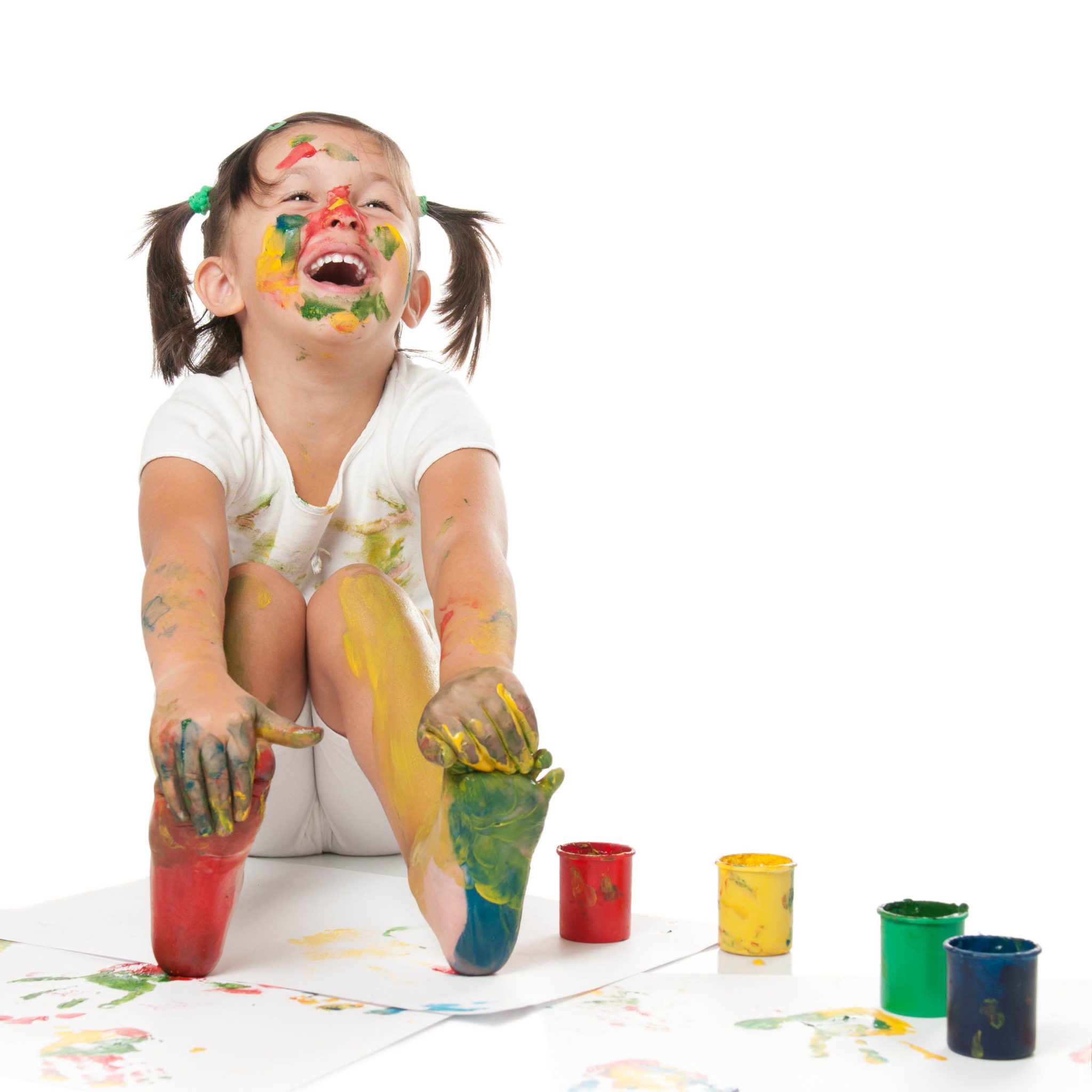 I grew up hearing, "How you spend New Year's Day is how you spend the rest of the year."  Well, 2018 was intense and busy for a lot of us. I'm hearing from many people who are still recovering from a hectic year. It seems to me that we all could use some "me" time as well as a different energy to launch 2019.
If you'd like to infuse your year ahead with play, joy, and inspiration, then this retreat is for you!
What will we be doing?
You'll tap into your creative spirit, inspiration and intention for 2019 through a painting activity. (And you don't even have to believe you have a creative bone in your body. Actually, people who don't think they are creative often have the best time painting with me.)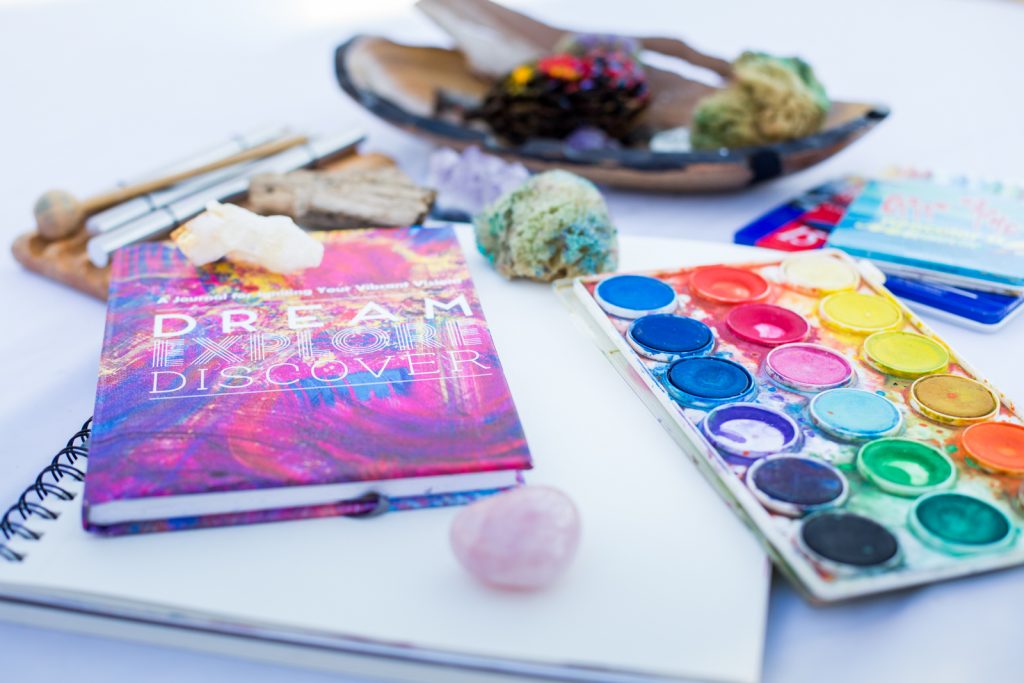 What should you bring?
First of all, bring your sense of play and your curiosity. You'll need both of those, for sure. And you'll also need:
Your journal (if you use one) or a few sheets of paper for writing
Crayons (at least 6 in different colors)
Watercolor paper (cold press is best or any heavyish paper that won't buckle with water)
Watercolor set (kid's version will work fine, like the kind you get at drug stores or Michael's)
A couple of objects to paint with that are NOT brushes (soft objects work best like sponges, qtips, cotton balls, or nature objects)
Paper towels and a bowl of water
Optional materials: Acrylic paint in gold, silver or bronze and a piece of bubble wrap (about the size of your hand)
What if you've never been on a video conference call?
No worries. Just jump on the video call at 10:15AM Pacific and I'll give anyone who shows up a quick orientation before we officially start at 10:30AM.
What if you don't want to be on video?
That's okay if you feel strongly about turning off your video. But here's why I ask you to consider being on video. Seeing each other's faces can make it more cozy and comfortable for everyone. Besides, it's kind of like a pajama party where we can hang out together and just be ourselves.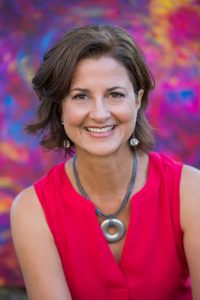 And if you like the idea of a mini-retreat but the painting part is stressing you out, rest assured that no previous painting experience is necessary. I'll guide you through each step of a creative activity at an easy pace, all within a supportive group setting.
This mini-retreat will be held via video conference on Zoom. A replay will be available to everyone who registers.
I hope you'll join me on New Year's Day to start your year with fresh energy!
Online Mini-Retreat: Complete and Celebrate Your 2018 Journey!
Come paint with me online on Dec. 15th, 10AM – 11:30AM Pacific to:
Reflect on 2018 in a fun, inspiring, and innovative way
Celebrate and honor your growth in 9 key areas
Play with your creative side and take a "me" break
Celebrate and Complete 2018
Dec. 15th, 10AM – 11:30AM Pacific
Through guided visualizations, painting and journaling, you'll complete the year in a supportive group setting.
No previous painting experience is necessary. I'll guide you through each step to create a flower that is unique to YOUR 2018 journey.
This class is held via video conference on Zoom. A replay will be available to everyone who registers.
You'll receive the Zoom link and a simple materials list after you register. (And if you don't have or want to get the materials, you can still do the exercise – just not as colorfully!)
$25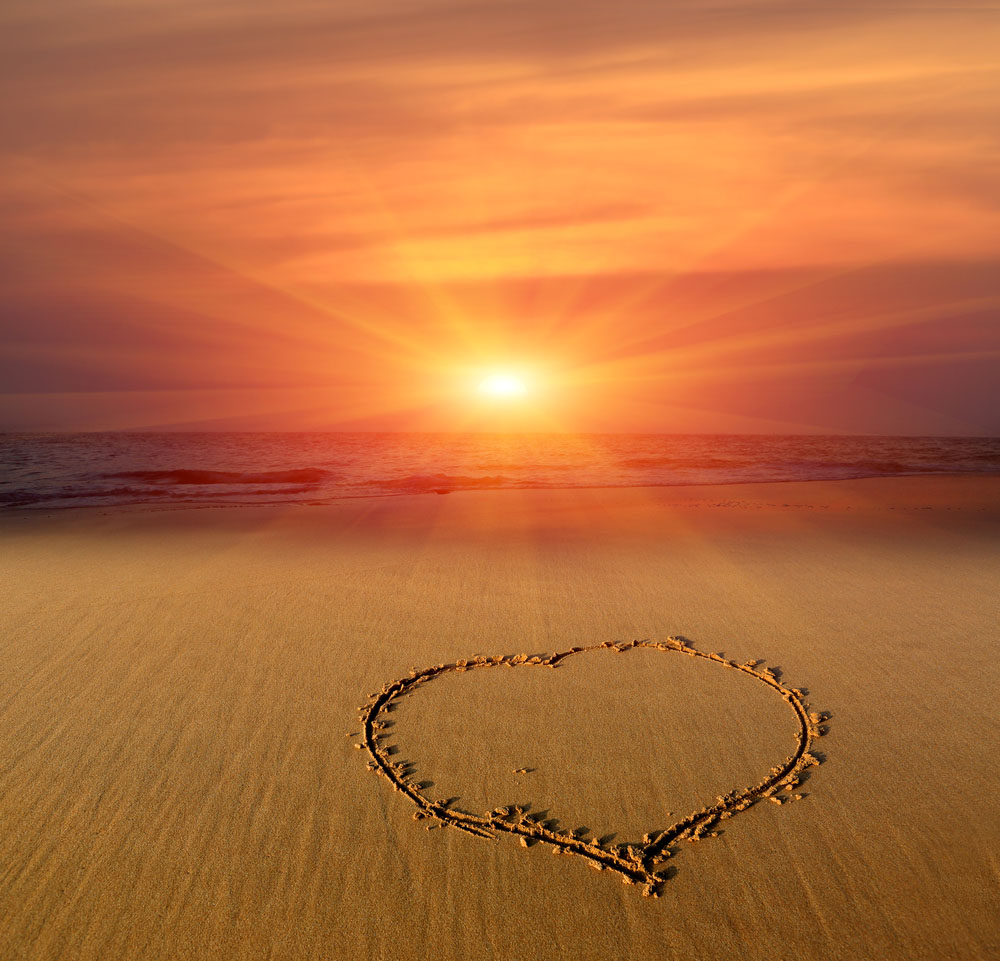 Free Webinar: Next Level Your New Year
Join us for a free webinar to get a head start on 2019!
If you're ready to create the best year yet, this webinar is for you. My colleague Dawn Ressel and I are excited to give you practical strategies that will help set you on your path.
You will:
Identify one action to close out the year on a high note
Discover if you're ready for an updated vision for your life
Find out the key to unlocking abundance
Learn about daily habits for staying in gratitude
Hear about our upcoming Vision Lab in San Diego
Register for one of the free webinars below:
Friday, December 14 at 2:00PM, Pacific