Ignite Your Brain… Unleash Your Business Mojo!
April 28, 2018 @ 10:00 am

-

3:00 pm
A Workshop for Inspiring Your Brilliance
Where did your mojo go?
Welcome to a warm and nurturing environment to get reacquainted with your mojo!
Here you will:
Find yourself called to breathe color back into your ideas
Reconnect with innovation through your creativity
Discover how to access inspiration with ease
Think outside the box to reconnect with your mojo
Exhale…ahhh!

It's tricky to find a balance between the logical left brain and the creative right brain that leads to brilliant business decisions.
In this workshop, I facilitate a way to use your whole brain harmoniously. You will experience a unique creativity process that supports business innovation using painting, visualization, and sound.
No art experience is needed. (In fact, those who have no art experience often have the most powerful results.)

This workshop is for women and men who find themselves in businesses, jobs or projects that could use some fresh inspiration and innovative thinking. You will learn how to think your best thoughts so you can make the best decisions and move forward energized.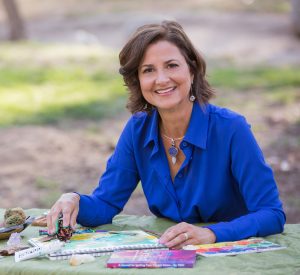 Hi, I'm Vasi Huntalas, founder of Ignite Your Sol and your guide for this unique workshop.
Do you spend most of your day in your business or in your job planning, analyzing and/or working on your computer?
Most of us do. And this leaves us with little time (or energy) to connect with our mojo. 
Think of your mojo as the passion, purpose, and creative fire that keep your vision alive. Without your mojo, it takes more of your time and energy to take action and keep momentum going on a daily basis.
But with your mojo, you find your flow and create results with more energy and less effort.  
In this workshop, I'll be facilitating a way for you to reclaim your mojo. And I'd love for YOU to experience how easy, fun, and powerful it is to find your flow!  
I pioneered this process first for myself and then shared it with others for their leadership, business, and creative breakthroughs. Over the past 4 years, I've led over 200 people (including those who insisted they weren't creative!) to rediscover their mojo. 
Is it time for you to find your flow?
 If you answered "yes," then join me on April 28th and be ready  to ignite your brain and your creativity!
To hear reviews from past workshop participants, visit the Workshops page. Questions? Email me at vasi@igniteyoursol.com.
Your investment: $129 or $99 if registered by April 25th (includes all materials)
Location: Goddess Studio in Escondido, CA (You'll receive an email with workshop details and directions the week of the retreat.)
To receive early bird price of $99, enter promo code: EarlyBird
<!-- Noscript content for added SEO --><!-- [et_pb_line_break_holder] --><noscript><a href="https://www.eventbrite.com/e/ignite-your-brain-unleash-your-business-mojo-tickets-44902353147" rel="noopener noreferrer" target="_blank"></noscript><!-- [et_pb_line_break_holder] --><!-- You can customize this button any way you like --><!-- [et_pb_line_break_holder] --><button id="eventbrite-widget-modal-trigger-44902353147" type="button">Buy Tickets</button><!-- [et_pb_line_break_holder] --><noscript></a>Buy Tickets on Eventbrite</noscript><!-- [et_pb_line_break_holder] --><!-- [et_pb_line_break_holder] --><script src="https://www.eventbrite.com/static/widgets/eb_widgets.js"></script><!-- [et_pb_line_break_holder] --><!-- [et_pb_line_break_holder] --><script type="text/javascript"><!-- [et_pb_line_break_holder] --> var exampleCallback = function() {<!-- [et_pb_line_break_holder] --> console.log('Order complete!');<!-- [et_pb_line_break_holder] --> };<!-- [et_pb_line_break_holder] --><!-- [et_pb_line_break_holder] --> window.EBWidgets.createWidget({<!-- [et_pb_line_break_holder] --> widgetType: 'checkout',<!-- [et_pb_line_break_holder] --> eventId: '44902353147',<!-- [et_pb_line_break_holder] --> modal: true,<!-- [et_pb_line_break_holder] --> modalTriggerElementId: 'eventbrite-widget-modal-trigger-44902353147',<!-- [et_pb_line_break_holder] --> onOrderComplete: exampleCallback<!-- [et_pb_line_break_holder] --> });<!-- [et_pb_line_break_holder] --></script>