Painting Retreats
Ignite Creativity, Vision, and Teamwork
Each of us is creative and intuitive! But not everyone knows how to access these powerful resources which are keys to succeeding and innovating at work, in business, and in the world.
These retreats combine a unique painting process (individual and group), mindfulness, sound, and journaling to ignite your creativity, unleash your wisdom, and build community.
Join us at one of the business, leadership, and public retreats below!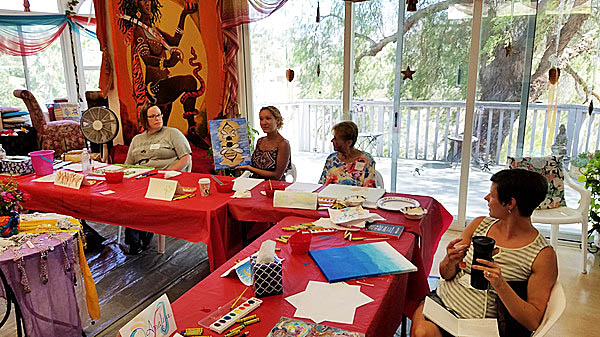 Customized Retreats for Your Team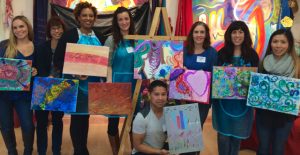 Are you looking for a unique and powerful way to build teamwork, reconnect with your business vision or celebrate a successful project?
We customize onsite or offsite retreats for businesses and nonprofits for teambuilding, innovative visioning, and leadership development.
Previous retreats have ranged from a few hours to all day. Please contact Vasi at vasi@igniteyoursol.com for a complimentary consultation to discuss your retreat needs and goals.
Urban Retreat for Women Business Owners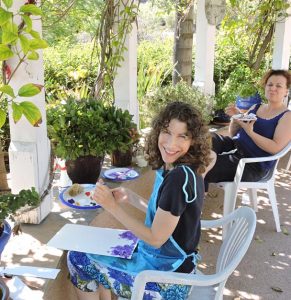 The next planned retreat is Nov 2017 San Diego from 10am – 4pm. The exact date is still to be determined – details coming soon.
Interested? Please contact Vasi at vasi@igniteyoursol.com to receive information.
Vision Retreats For Individuals
Online retreat coming soon!
Do you have an inspiring dream but feel that you're not ready yet, not good enough, or don't have time to start it?
Or do you sense you'd like to try something new in your life, career, or business, but don't have clarity or focus to get started?
At an online retreat, you'll learn and experience the powerful blend of intuitive painting, self-discovery, and creative inspiration. Through video conferencing, participants have opportunities to participate live and connect with others in a supportive learning community.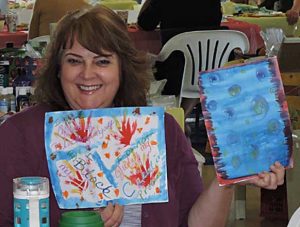 You'll walk away with tools, new energy, and fresh vision of who you really are and what's next for you. Email Vasi at vasi@igniteyoursol.com so you can receive information on upcoming retreats